The alarm was first sounded in the United Kingdom and soon also in Italy. The simple pleasure of sharing your bike ride with your team mates can provide a perfect opportunity for bike thieves. At least, if you don't use the "PRIVACY ZONE" on Garmin Connect.
Technology simplifies life in many ways. And unfortunately, not only for us. The number of bike or motor thefts from garages is constantly growing. Often the thieves only need an internet connection to know our movements and training sessions to pinpoint the "perfect" garage and draw up the perfect hit.
The "evildoers 2.0" are using internet as one of their instruments. Once they have entered our accounts on Garmin Connect and they understand the timing of our trips out of the house, maybe with a bike or other costly vehicles that usually are kept in our garages, the deal is done. During the night, a break in is guaranteed and the phenomenon has increased considerably with the ever-higher value of our bikes or motors.
For this – and for many other motives – it is wise to be careful whom we allow to see our activities through the privacy settings on Garmin Connect.
It is true that the best choice is always to avoid sharing personal data on the internet and social media, but it is also true – and we know this well - that at times it is difficult to resist the temptation to share a happy moment, an exertion, or a satisfaction.
Now, however, there is a new function to help you: The "PRIVACY ZONE" on Garmin Connect. It can be used to obscure a radius of 100m up to 1km from your starting and arrival point when you start tracking you training sessions or other activities.
All the data will be registered from the moment you press START until you press STOP, even if the radius chosen is set to begin 500 m before.
This is how to set the "privacy zone":
Access your account, click on privacy settings;
Enter the address from where you often start. Press ENTER on your keyboard and extend the privacy radius from 100m to 1Km;
Save by clicking on the blue key "SAVE".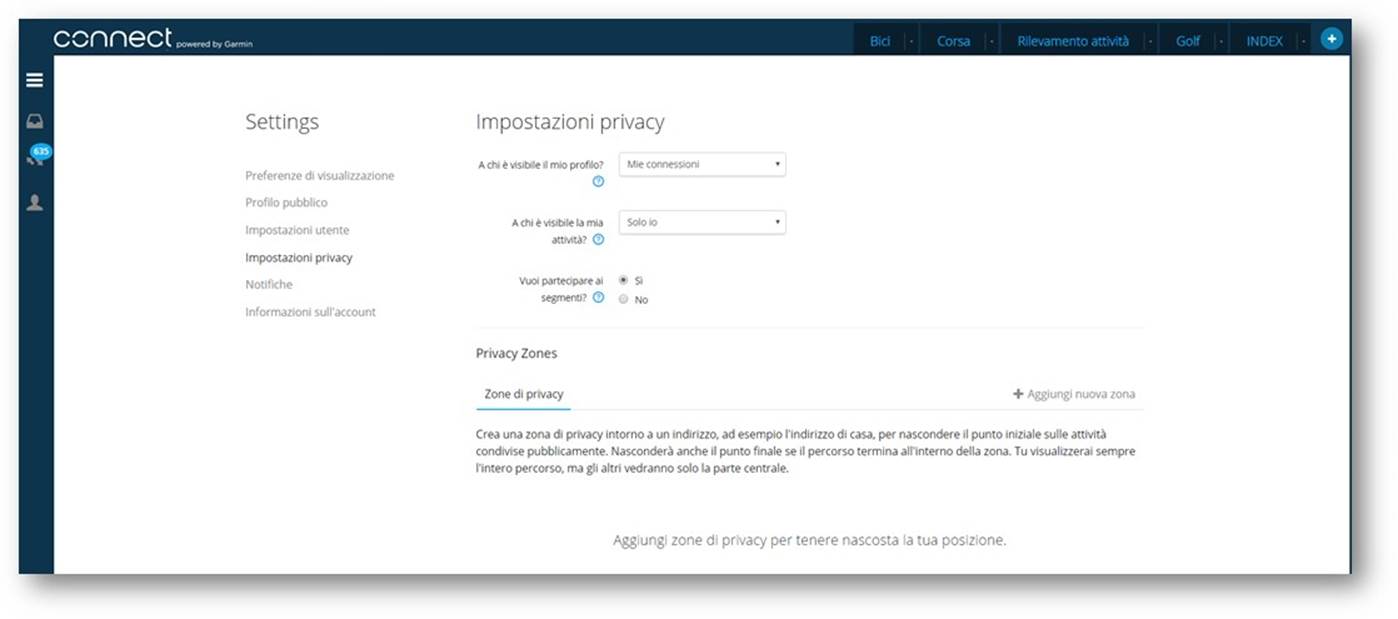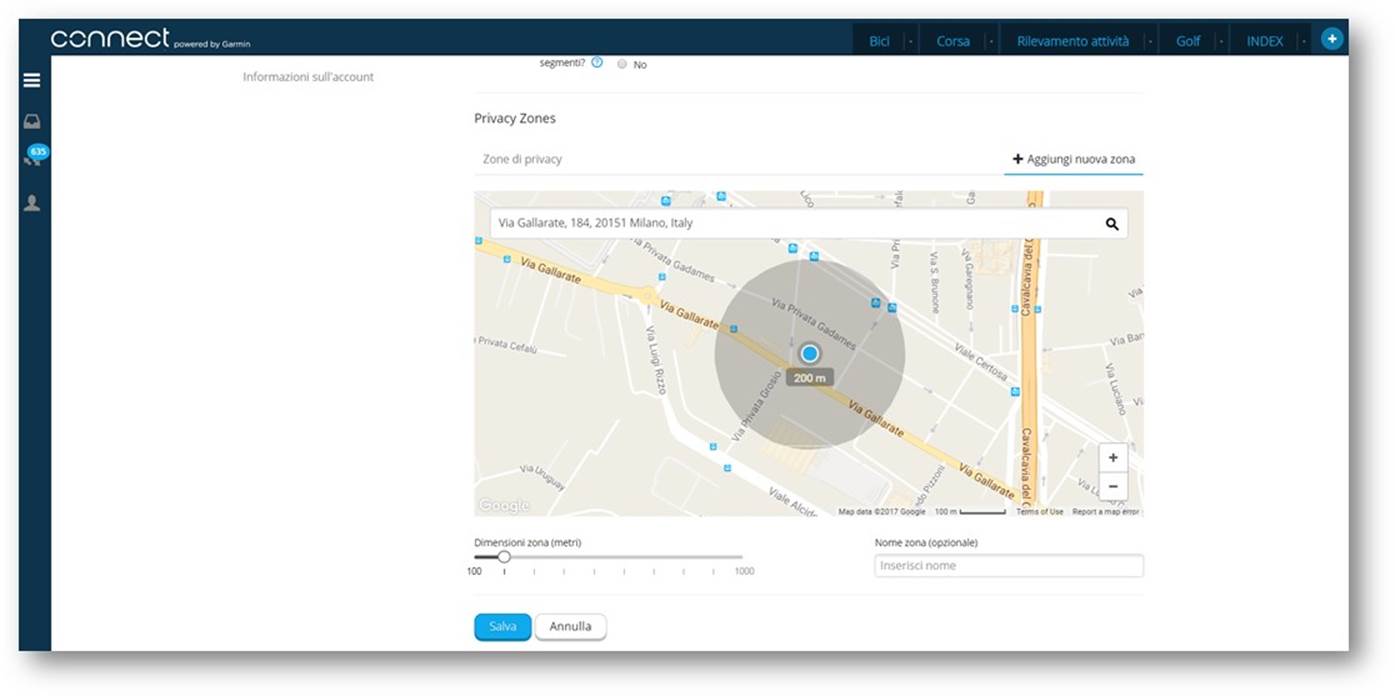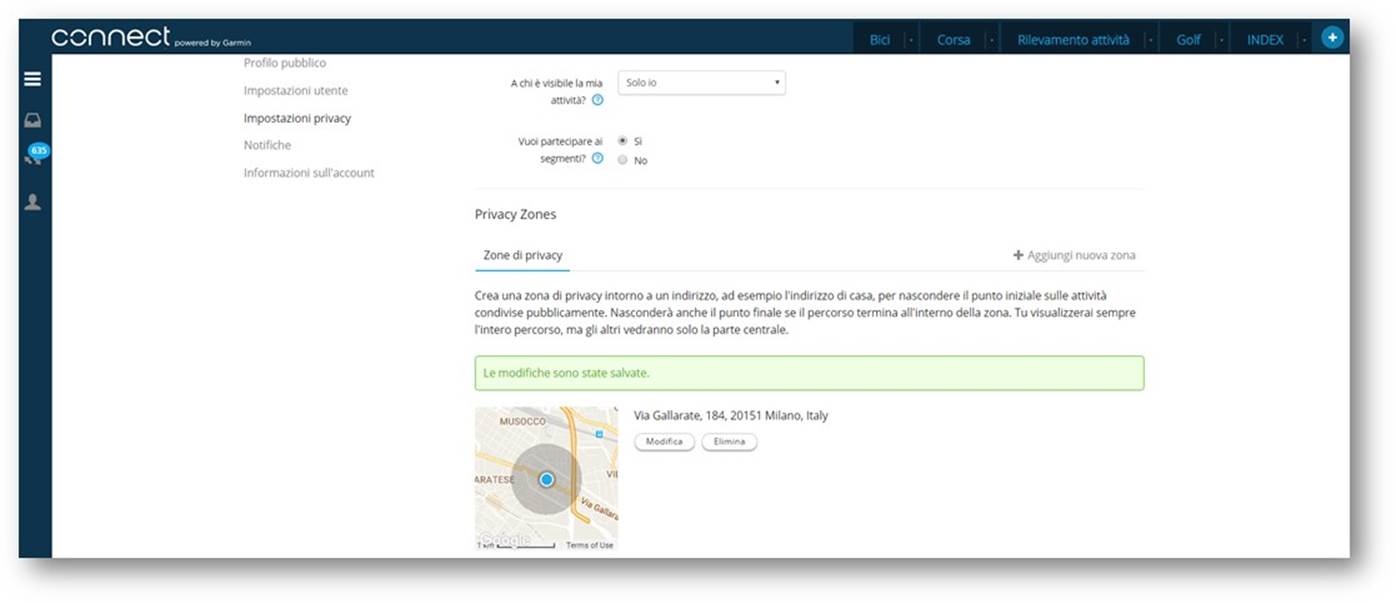 Now you can go out without worrying. Have a good ride!
You might also be interested in